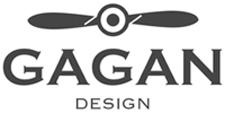 All orders are made by hand upon order. We are not a mass-manufacturer.
Please allow 1-2 weeks for fabrication of your unique item.
Ships FedEx Ground within North America. (Usually takes 3-5 business days)
Ships by FedEx or Canada Post everywhere else (Except North America). It can take anywhere between 1-10 weeks depending on location and carrier.
- We try to ship using FedEx as first priority for most countries and 80-90% of deliveries are made in 1 week but for certain destinations the rates are too high and we'll then try next economical option within Canada Post.
- If you want to know estimated shipping time then send us an email at info@gagan-design.com and we'll get back within 24 hours.
Any customs/duty if at all in your country shall be borne by the buyer. Gagan Design is not responsible for customs fees incurred from importing goods.
If you're unavailable during delivery at the shipping address provided the package might be returned back to us. In that case we're charged return shipping and customs duties. We'll have to charge them back to you.
We are not responsible for lost or stolen shipments. Please ensure your destination has a secure point of delivery.
- Usually shipping companies try few times and leave a note so the package can be picked up from a location.