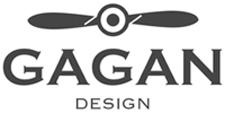 Shipping Policy

All orders are made by hand upon order. We are not a mass-manufacturer.
Please allow 1-2 weeks for fabrication of your unique item.
Ships FedEx Ground within North America. (Usually takes 3-5 business days)
Ships by FedEx or Canada Post everywhere else (Except North America). It can take anywhere between 1-10 weeks depending on location and carrier.
- We try to ship using FedEx as first priority for most countries and 80-90% of deliveries are made in 1 week but for certain destinations the rates are too high and we'll then try next economical option within Canada Post.
- If you want to know estimated shipping time then send us an email at info@gagan-design.com and we'll get back within 24 hours.
Any customs/duty if at all in your country shall be borne by the buyer. Gagan Design is not responsible for customs fees incurred from importing goods.
If you're unavailable during delivery at the shipping address provided the package might be returned back to us. In that case we're charged return shipping and customs duties. We'll have to charge them back to you.
We are not responsible for lost or stolen shipments. Please ensure your destination has a secure point of delivery.
- Usually shipping companies try few times and leave a note so the package can be picked up from a location.
Return/ Refund Policy
Each product is made by hand upon order and hence we're unable to accept returns.
Returns are only accepted for goods damaged in shipping.
Unless your item is received damaged, or there was some error on our part, you will be responsible for all return shipping costs. There may be additional shipping and handling fees for items that have free outbound shipping.
Because refunds will not be issued in full for items damaged in return shipping or returns that are never received, we highly recommend that you insure all return shipments and provide Gagan Design with the shipment tracking number.
Get in touch with Gagan Design at info@gagan-design.com before initiating any returns.
In the unlikely event of a lamp not working we would gladly replace it or send you a replacement part provided you send the item back to us in original packaging and unused.
Damage Policy
All items are shipped to you in the best possible packaging to ensure that you receive your purchase in perfect condition. Upon receipt, please inspect your package closely.
If you receive a damaged item, we will assist you in receiving a replacement or refund as quickly as possible provided you return the item back to us in original packing and unused.
Should you observe significant damage to the outer packaging, please reject the shipment and have the carrier return it.
If there is minor damage to the packaging, please indicate as such when you sign for the shipment.
In the unlikely event that you find your product to be damaged upon opening it please notify Gagan Design Support at info@gagan-design.com
Please notify Gagan Design of any damages on the product or packaging within 2 days of receipt.
All lamp light bulbs that are included FREE are not eligible for return or replacement.
Please provide pictures of damaged product and packaging as proof, for us to process your damage request.
Warranty
All products are warranted against malfunction for 90 days. Starting from the day you receive the product.
Bulbs are not covered under warranty.
LED lighting is covered for 90 days.
Any damage caused due to misuse or mishandling is not covered under warranty.
Note

The lamp works on 110V-220V. (Bulb is 110V)
Plugs are US. You'll need plug adapter outside US/Canada.
Additional Policy
Please note that our lamps are not UL listed but we use UL listed components for most lamps and each lamp is crafted with great pride and the finest quality components. They are tested and inspected prior to shipping.
Consult qualified electrician for installation. It is the customers' responsibility to check with a building contractor or local electrical inspector for approval before ordering.
All lamps using incandescent bulbs must not exceed 60 Watts.
GAGAN DESIGN INC. is not Liable for any damages caused by use/misuse of these products.